Combo D-Subs - Where both power and signal are required from a single connection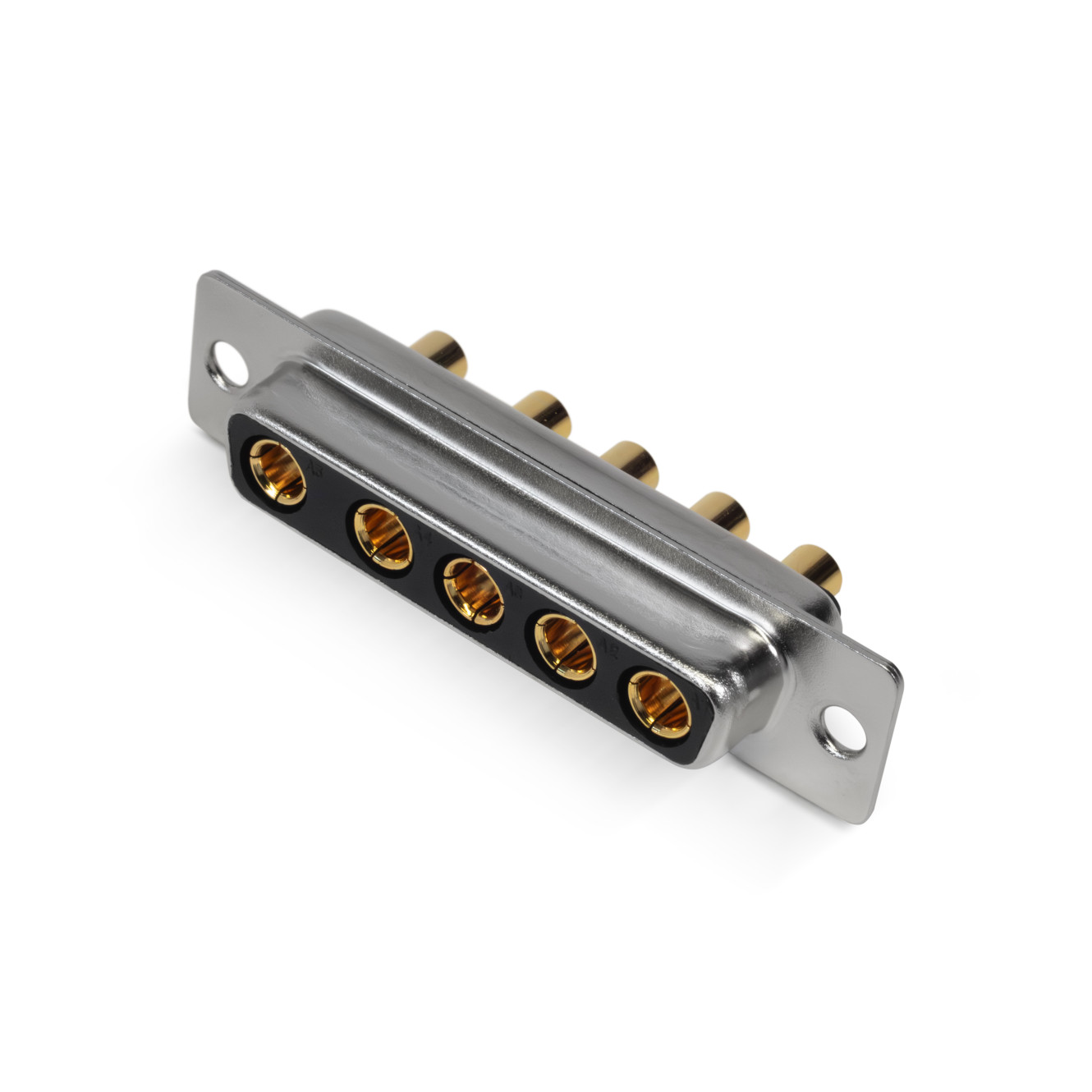 The D-Subminiature connector, or D-Sub, is one of the most instantly recognisable connectors in the world. Its existence for over 60 years has resulted in outright reliability, alongside its evolution in terms of both power and signal capacity, such that it is now the interconnect solution of choice in many demanding applications.
MH Connectors has built on this tried and trusted technology to introduce a high-quality, high-performance Combo D-Sub range of products for use where both power and signal are required from a single connection.
Combo D-Sub Features

Benefits

Supplied with fully assembled, pre-installed contacts.

Simpler manufacturing and removes the need for separate part numbers and the logistical headache they cause.

Metal shells, gold flash contacts and insulator resistance of 5 GΩ.

Full EMI/RFI shielding with a highly reliable connection.
Decreases the number of I/O interfaces, reducing the possibility of EMI/RFI leakage.

20A and 40A rated power contact options.
5A rated signal contacts.

Precision machined contacts with high levels of reliability up to 500 mating cycles.

Solder cup, vertical and right-angle solder pin termination options.

Compact connectors that deliver significant power where space is at a premium.
Why machined contacts transform D-Sub applications.
Since its introduction, the D-sub has been adapted for almost every application imaginable. The historic, mass-produced, stamped and formed contacts made it a cost-effective solution for generations of desktop computers. However, their fragility and unsuitability for carrying high currents has driven innovation to maintain their relevance in today's world.
The use of machined contacts in the new Combo range transforms D-subs into high-performance solutions for demanding applications. Due to their solid construction, machined contacts provide greater mass and cross-sectional area. These features increase their current carrying capability and reduce the temperature rise associated with high currents. In addition, their solid construction also provides greater reliability for applications that require a high number of mating cycles.
Combo D-sub connectors fitted with machined contacts are highly capable power connectors. With a generous contact pitch (the distance between the centre of adjacent contacts), the MH Combo D-sub range is fitted with machined contacts that can carry currents of up to 5 Amps per circuit.
Solutions for compact devices.
As devices become more compact, designers might not be able to rely on power and signal connectors that can be mounted separately.
Within the combination D-sub, some or all conventional contacts are replaced by larger cavities that can accommodate specialist terminals. These can be designed to deliver high currents, radio frequencies or even optical fibres, turning the D-sub into a specialist hybrid connector which is more useful now than ever before.
The new Combo range from MH combines the traditional D-Sub functionality with modern logistical solutions. Supplied with pre-installed fixed contacts, removing the need for separate part numbers and the logistical headaches they cause, they are available in solder cup, vertical and right-angle solder pin terminations, allowing these compact connectors to deliver significant power to the latest micro designs.
Full flexibility.
Available in a choice of 4 industry-standard configurations, the MH Combo D-sub series allows the use of familiar and readily available accessories, along with standard panel cut-outs and PCB layouts.
The MH combination D-sub series offers high performance with modern features to reduce logistical concerns and processing times. Take a look today at how MH has brought tried and trusted technology up-to-date, and what opportunities it might present for your next design.
To see our full range of Combo D-Subs, click here.

---
Go Back