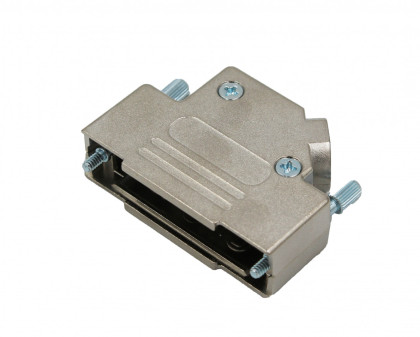 HIGHLIGHTS
MH Connectors' D-sub hoods are designed to maximise EMI/RFI shielding for optimal protection and performance.
The comprehensive range features a variety of options that improve connection stability while maximising cable strain relief.
Hoods are available in Plastic, Metallised Plastic and Metal variants.
Options include 35⁰, 45⁰, 90⁰ and 180⁰ and single, double or triple cable entry.
A wide variety of appropriate accessories are also available.
---
D-Sub Hoods
Die Cast Hoods
| Series | Description |
| --- | --- |
| MHC Series | MHULTI D-Sub Hood | Ferrule Clamp, Top Entry |
| MHC35 Series | MHULTI D-Sub Hood | Ferrule, 35° Side Entry |
| MHC88E000 Series | Profiled D-Sub Hood | Top Entry |
| MHCCOV-ME Series | Economy D-Sub Hood | Top Entry |
| MHCCOV-ME-RG Series | Economy D-Sub Hood | Compression Insert, Top Entry |
| MHCCOV-MEL Series | Economy D-Sub Hood | Jackscrews, Top Entry |
| MHCCOV-MEL-RG Series | Economy D-Sub Hood | Jackscrews and Compression Insert, Top Entry |
| MHD45ZK Series | Standard D-Sub Hood | 45° Side Entry |
| MHD45ZK-BK Series | Standard D-Sub Hood | Black, 45° Side Entry |
| MHDCMR-RA Series | Rapid-Assembly Low Profile D-Sub Hood | Side Entry |
| MHDCMR-ULP Series | Ultra Low Profile D-Sub Hood | Side Entry |
| MHDM Series | MHULTI D-Sub Hood | Compression Insert, Top Entry |
| MHDM35 Series | MHULTI D-Sub Hood | Compression Insert, 35° Side Entry |
| MHDSCK Series | Slide Lock D-Sub Hood | Side Entry |
| MHDTSL-JS Series | Standard D-Sub Hood | Jackscrews, Conical Strain Relief, Top or 45° Side Entry |
| MHDTSL-JSFR Series | Standard D-Sub Hood | Jackscrews, Compression Insert, Top or 45° Side Entry |
| MHDTSL-SL Series | Slide Lock D-Sub Hood | Conical Strain Relief, Top or 45° Side Entry |
| MHDTSL-SLFR Series | Slide Lock D-Sub Hood | Compression Insert, Top or 45° Side Entry |
| MHDTZI Series | Standard D-Sub Hood | Double Cable Clamp, Top Entry |
| MHDTZK Series | Standard D-Sub Hood | Top Entry |
| MHDTZK-BK Series | Standard D-Sub Hood | Black, Top Entry |
| MHDTZK-RA Series | Standard D-Sub Hood | Rapid Assembly, Top Entry |
| MHDTZK-RA-BK Series | Standard D-Sub Hood | Rapid Assembly, Black, Top Entry |
| MHDU45ZK Series | Standard D-Sub Hood | Dual 45° Side Entry |
| MHDVSL Series | Slide Lock D-Sub Hood | 45° Side Entry |
| MHEE Series | MHULTI D-Sub Hood | Conical Strain Relief, Top Entry |
| MHEE35 Series | MHULTI D-Sub Hood | Conical Strain Relief, 35° Side Entry |
---
Related Categories